NYSSBA Convention a winner!
Michael Shilale Architects, LLP make a show in New York City.
November 10, 2006
Back to Press Releases and Publications
New City NY - Michael Shilale Architects, LLP (MSA) would like to announce that the winner of the Odyssey Putter raffle is Dr. Darleen A. Michalak, Deputy Superintendent of the Erie 1 Boces in West Seneca, NY.
Last month Michael Shilale Architects, LLP exhibited their work at the statewide convention for New York State School Board Associations (NYSSBA) Members. A conference geared to inform and educate school board members, the firm was happy to support the effort and the clients we serve. It was also an opportunity to meet school board members from throughout New York State.
Kate Andrejko, pictured above along with Cheryl L. Brenn, CAE from New York State School Boards Association deserve our thanks and congratulations for coordinating such a successful event.
<![if !vml]>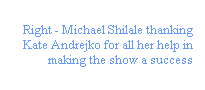 <![endif]>Michael Shilale Architects, LLP, an eight person architectural engineering firm founded in 1991, serves an educational, institutional, municipal, commercial and residential client base, from Manhattan to Monticello, including Rockland, Orange, Sullivan, Westchester and Nassau counties, in New York, as well as Bergen County, in New Jersey. For more information, please call 845-708-9200, or visit their website at, www.shilale.com.